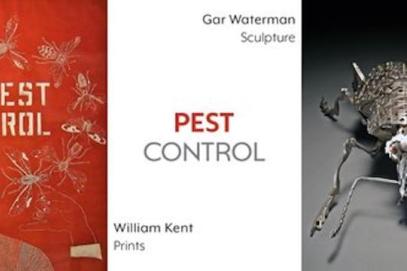 Pest Control by Willliam Kent and Gar Waterman
Date:
Thursday, February 10, 2022 - 1:00pm

to

Sunday, March 13, 2022 - 7:00pm
Description:
  Pest Control by Willliam Kent and Gar Waterman : February 10- March 13th
Opening Reception: Saturday, February 12th, 4-7 pm
Pest Control, featuring gallery member Gar Waterman's welded steel sculptures and William Kent's extraordinary carved slate prints on rice paper and cloth. This exhibit focuses on insect motifs used by both artists to cast a critical eye on an environment abused by a terminally self-absorbed human race. Kent's style is anything but subtle – colorful prints delivering heavy irony with stark humor, societal idiocies reduced with relish to graphic conundrums. Waterman's bricolage steel beetle sculptures move purposefully over architectural grids, harbingers of the inevitable decay of the man-made environment as nature will out in the end.
William Kent was a carver of monumental sculptures in wood and stone and a prolific printmaker. He was born in Kansas City, Missouri, in 1919. He graduated from Northwestern University, and attended Yale University School of Music to study music theory and composition with Paul Hindemith. While at Yale he became interested in art, and began to teach himself to paint, and then to sculpt in clay, stone and wood. Completely self-taught as a visual artist, he began to sculpt in the late 1940s and early 50s, and by 1963 had developed a unique method of printmaking, which involved carving into huge sheets of slate, and using them to make mono-prints on rice paper and fabric, all of this done alone and without a printing press. From 1962 to 1965 he had one-person exhibitions at the Castellane Gallery, Madison Avenue, New York City, and at other museum and gallery exhibitions along the East Coast. His sculptures and prints were critically acclaimed, and purchased by museums and important collectors. https://williamkentfoundation.org/
Gar Waterman has lived and worked in the Westville section of New Haven for 24 years. His sculpture takes part in the oldest and longest running art movement around – art inspired by nature - with seeds, sea slugs, and beetles among the diverse forms of biodiversity that frequently inform his work. In response to the gathering storm of Climate Change, Waterman has been increasingly interested in leveraging his artwork to engage his audience with some of the environmental issues facing at-risk biodiversity.http://garwaterman.com/