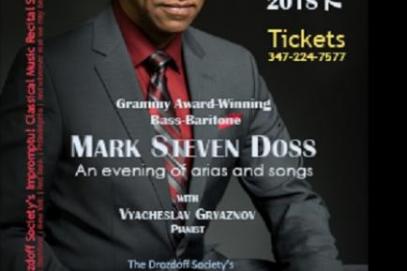 Drozdoff Society presents Mark Steven Doss
Date:
Thursday, May 17, 2018 - 7:30pm
Description:
An evening of arias and songs with Vyacheslav Gryaznov, pianist Doors: 6.30 pm Show: 7.30 pm Tickets: Call – 347.224.7577
Recordings below: Nulla! Silenzio Gospel of Grace, Hayes
 ABOUT MARK S. DOSS- Mark S. Doss (www.marksdoss.com) is a celebrated bass-baritone whose accomplishments include a Grammy Award for his work on the recording of Semele (Handel), and numerous engagements with the famous Teatro alla Scala in Milan, Italy.  Mr. Doss began his musical studies to aid in his ambitions to become a Catholic priest, but instead found opera to be his true calling. He has since emerged as one of the opera world's leading singers, performing nearly 100 stage roles to date with more than 60 major opera companies around the globe.
Links
Facebook: http://www.facebook.com/home.php#!/pages/Mark-S-Doss/78423203990
You Tube: https://www.youtube.com/user/marksdoss
Twitter: http://twitter.com/marksdoss