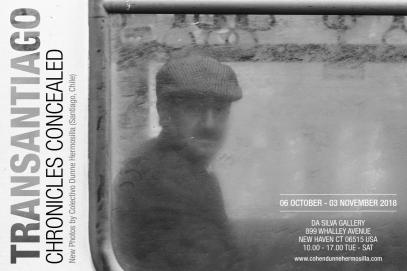 Colectivo Dunne Hermosilla
Date:
Saturday, October 6, 2018 - 10:00am

to

Saturday, November 3, 2018 - 6:00pm
Description:
The Da Silva Gallery in New Haven is delighted to present the international debut of Colectivo Dunne Hermosilla (
www.cohendunnehermosilla.com
) with "Transantiago: Chronicles Concealed",
the first presentation of this new series of artworks and one of the first solo exhibitions of Chilean photography or photographers in the US. This new series is an artistic interpretation of the public transport system in Santiago, Chile and specifically, the part of that world which has been revealed to us through the windows of its buses. Urban scenarios are shown from the perspective of the passer-by at bus stops and on pavements revealing the personalities, urban reliefs and abstract cityscapes of the changing capital which is Santiago, Chile. The exhibition will run from 6th October to 3rd November 2018 Tuesdays to Saturdays coinciding with the annual City Wide Open Studios (
www.cwos.org
) of the City of New Haven taking place throughout the month of October. The collective will present an accompanying installation as part of CWOS at Yale West Campus from 26 to 28 October.